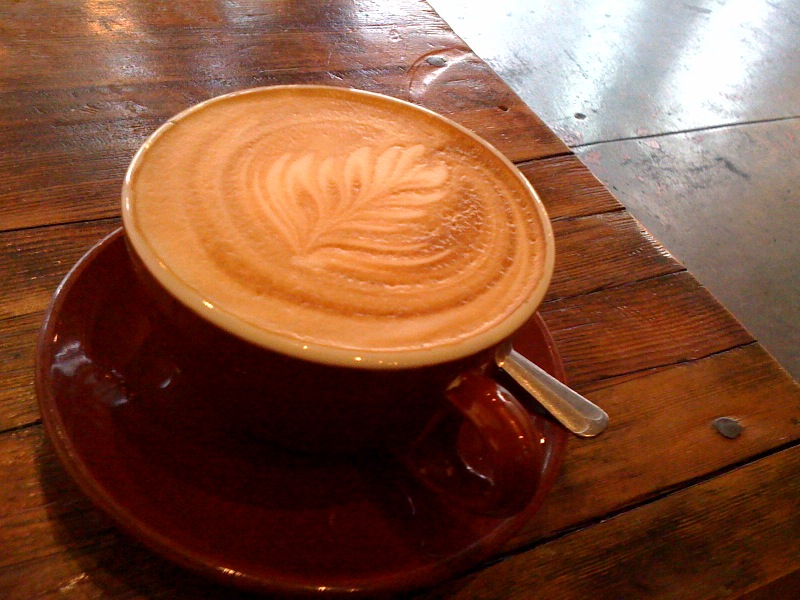 A damp morning in San Francisco requires a good strong cup of coffee but I had concerns. When I was in Portland I had several lousy lattes. I have no doubt there is fine espresso to be had there, given the caffeine proclivities of the Pacific Northwest, and I am sure that I simply made poor choices.  But when you have tasted bitter grounds, as it were, you need to be cautious.
Initially, my host recommended the place around the corner from his apartment in the Castro. Then he paused and looked off into the distance for a moment, the way one does when remembering something pleasant. If you find yourself around 14th and Valencia, he began, there's a place called Four Barrel.
I didn't find myself here, I walked deliberately here. What's a 20 minute detour for good coffee, especially if it's sort of on the way to Thom Mayne's Federal Building?
I caught the aroma of the place from across Valencia-a good sign, as was the self-concious lack of signage and the bare wood and concrete styling of the place. Not a potted plant in sight, only a hand-built fixed gear leaning artfully against a rough hewn copper paneled counter. Only later did I notice the four boar's head hunting trophies hanging above the pre-packed beans.
The barrista's tattoos were beautifully layered floral patterns, neither Celtic nor Asian, they were entirely original. I hoped the coffee he made would have the same attention to detail.
He placed a heavy saucer on the counter and chatted amiably with the confidence of a true craftman as he made the espresso and steamed the milk. I imagined him as an historic re-enactor explaining to some future tourist how urban Americans lived at the start of the 21st century.
When he put the cup, now one quarter filled with a dark loamy liquid, on the counter I came back to the present tense. He paused in a deliberate way, letting the milk settle. Then he poured it into the cup with a flourish. His pouring achieved one of those milk/coffee patterns. It was lovely in a skilled but understated way. It looked like one of his tattoos.
I carried it with two hands to my table so as not to disturb the foam. Then I went back for my donut. A light yeasty thing, orange scented with a thin vanilla glaze, it was delicious; the perfect foil for the main event.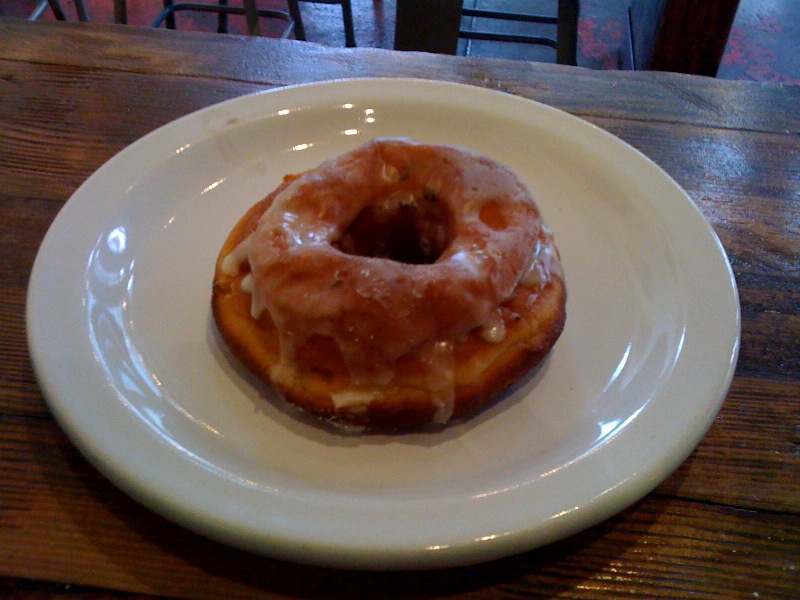 As the coffee pushed through the milk at my first sip it had the perfect flash of acidity that mellowed into a chocolatey kind of depth of flavor as it mixed with the creamy foam.
Neil Young was playing on the sound system–from vinyl, not mp3. By the time "Helpless" was over my cup was empty. The coffee was just like the music: comforting, satisfying, well-crafted, and damned good.