These are my opening remarks from the symposium I organized for Rosemarie Bletter, my Ph.D. advisor.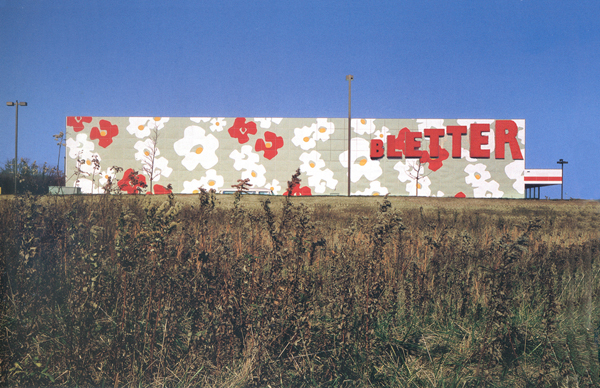 We are gathered here today to honor Professor Rosemarie Haag Bletter on the occasion of her retirement from the Graduate Center of the City University of New York. And it is my happy task, by way of introduction, to spend a few minutes reviewing Rosemarie's distinguished career as a scholar and teacher.
Rosemarie arrived at the Graduate Center in 1987, to teach in the Interdisciplinary Program in Modern German Studies and the Ph.D. Program in Germanic Languages and Literatures.  Since 1990 she has been Professor of European and American architecture and theory of the 19th and 20th centuries in the Ph.D. Program in Art History.
Rosemarie was educated at Columbia University where she completed a master's thesis on the Catalan Mondernista architect Josep Vilaseca and a doctoral dissertation on German expressionism and the architectural and planning work of Bruno Taut.[1]  These two subjects helped define what have remained abiding interests throughout her career in scholarship and teaching dedicated to pushing the boundaries of canonical modernism to create not simply a more inclusive understanding of modern architecture but a more nuanced one.
The extended series of essays that came out of and built upon her dissertation, including "Expressionism and the New Objectivity," "Interpretation of the Glass Dream," "Paul Scheerbart's Architectural Fantasies," and more recently "Mies and Dark Transparency" (her contribution to MoMA's Mies in Berlin catalogue) are meticulously crafted works of architectural history—combining archival research and socio-cultural contextualizing with sophisticated formal analysis, theoretical interpretation, and projective critique.[2]  They are also models of positive historical revisionism that quietly—without rhetoric or bombast—insist upon an alternative and more complex telling of modernist narratives.
Rosemarie's interest in exploring modernism's diverse strands also informed her work as a curator.  In Skyscraper Style at the Brooklyn Museum she offered a serious reappraisal of New York's Art Deco towers, situating them as a distinct, but legitimate form of modern architecture.[3]  In High Styles at the Whitney Museum of Art, she explored the impossibility of a single or dominant trend in American design in the 20th century, and examined the aesthetic gulf between elite and popular taste, especially where modernism was concerned.[4]  These are issues she revisited in numerous exhibition catalogues including "The Myths of Modernism" for Craft in the Machine Age and "The Laissez-Faire, Good Taste, and Money Trees" for Remembering the Future.[5]
Shedding light on architecture's plurality—exposing the existence of multiple modernist stories, indeed of multiple modernisms, may be Rosemarie's most important legacy.  And this may explain why much of her scholarship has a decided historiographic strain, as she worked to uncover the myriad ways that designers, critics, and historians constructed the modernist narratives that became her frequent subject.  One of the best examples of this is her extended introduction to the English translation of Adolf Behne's 1926 book The Modern Functional Building, published in 1996 in the Getty's Text and Document series.[6]  Her description of Behne's critical project aptly characterizes her own, for Bletter, like Behne "unmasked many of the ideologies of functionalism, rationalism and European modernism." Rosemarie's unmasking was not, however, limited to Europe or to Modernism.
In "On Martin Frölich's Gottfried Semper" she revealed how the 19th century theorist's ideas about the relationship between form and style were misunderstood and misinterpreted by later theorists, from the Wagnerschule to the Chicago School.[7]  In "The Invention of the Skyscraper: Notes on its Diverse History," she explored the complexity of shifting attitudes towards this distinctive US building type, revealing how history and criticism transformed the workaday commercial tower of the late 19th century into an emblem of high architecture by the middle of the 20th.[8]  Similar concerns remain in Rosemarie's ongoing research.  She is currently collaborating with Joan Ockman to prepare a critical edition of the proceedings of Modern Architecture Symposia held at Columbia in the 1960s.  This project is aptly titled "Between History and Historiography."
In challenging modernism's grand narratives, foundational assumptions, and representational apparatuses, Rosemarie had much in common with those architects whose work in the 1970s and 1980s was identified, however problematically, as postmodern.  And her writings on the work of architects like Peter Eisenman, Michael Graves, and Robert Venturi and Denise Scott Brown reveal her to be a perceptive critic of present day practice.  Time and again, in essays like "Transformations of the American Vernacular" and "Frank Gehry's Spatial Reconstructions," Rosemarie demonstrated the perspective and scope the historian brings to the project of contemporary criticism, including the ability to reveal how architects, to use Rosemarie's own words, "superimpose their own predilections upon earlier theoretical frameworks."[9]
Nowhere is this clearer than in Rosemarie's concise 3-page essay on Five Architects, which remains, three decades after its publication, an exemplary analysis of the theoretical debates between the Whites and the Grays that dominated architectural discourse in the late 70s.[10]  This same criticality is evident in the documentary films Rosemarie made with her husband, the critic Martin Filler, including The Architecture of Arata Isozaki and Beyond Utopia: Changing Attitudes in American Architecture, which, memorably, includes a scene of Denise Scott Brown standing in the Piazza San Marco demurring the notion that she and Venturi are post-modernists by explaining that "Marx was not a Marxist."[11]
It was, of course, Rosemarie's scholarly critique of postmodernism that led me to choose a building by Venturi Scott Brown to illustrate the poster and program for this event.  As it turns out, the Best Products Catalog Showroom in Langhorne, Pennsylvania, designed in the late 1970s, was more appropriate than I realized.  When the building was being torn down a few years ago, Bob Venturi called Rosemarie to ask if she wanted any relics.  She said yes to four porcelain steel panels from the building's decorative, wallpaper-like façade, which she apparently intended to hang in her apartment.  This didn't happen—not because of their size, or because the partition walls of her post-war building may not have been up to the strain of paneled steel, but because the panels' stylized floral motif was not legible when viewed up close and in isolation.  Rosemarie's aesthetic sensibility has always been as finely honed as her critical one.  These panels are currently installed here at the Graduate Center and they will make an excellent backdrop for photographs at the end of today's event.
In this brief overview I have attempted to give you some sense of the breadth of Rosemarie's work.  In the interest of time, though, I have left out scores of important publications, papers, and lectures that add depth and texture to Rosemarie's career as a scholar.  Throughout that career Rosemarie brought her scholarly concerns to bear directly on her teaching—here at the Graduate Center and at the other distinguished institutions where she held faculty positions, including Columbia University and the Institute of Fine Arts at New York University.  The courses she taught ranged from visionary architecture to the museum as a social and cultural artifact, from early 20th century modernisms to post-modernism and beyond, from issues in 19th century architecture to the memorably titled class "from reconstruction to deconstruction."
This afternoon's talks give us the opportunity to see the influence of these and other courses on a generation of scholars, and I asked our speakers to be somewhat reflective today in order to highlight how their work with Rosemarie shaped their research methodologies and 
interests, and their overall intellectual development.[12]  For my part, I can credit Rosemarie's expansive view of modernism with helping me to methodologically situate my own scholarly proclivities, from modernized storefronts to Morris Lapidus.  My current book project, Architecture & Autopia, looks at the ways that ideas about, and attitudes towards, the commercial landscape shaped architectural discourse after World War II in terms of practice, history, theory, and criticism.  And it has been obvious to me from the start, that this project is utterly indebted to Rosemarie's perceptive historiographic work, as well as her thoughtful criticism of Venturi Scott Brown.
Because of time constraints, we will hear today from only a few of the people who worked with Rosemarie over the years, but among her many outstanding students, one, in particular, merits special mention because she could NOT be with us.  Loretta Lorance, who received her doctorate from the Graduate Center in 2004, died of cancer in February.  Her dissertation, supervised by Rosemarie, examined the life and work of the designer technocrat R. Buckminster Fuller and became a well-received book published by MIT in 2009.  Reviewing Becoming Bucky Fuller in the Journal of the Society of Architectural Historians, Felicity Scott noted how skillfully and convincingly Loretta "debunked the Fuller myth."  Those of you who knew Loretta will recall that she needed little prompting to debunk some one or something. But with Rosemarie's guidance—Professor Bletter being a master of dismantling architectural hagiography—perhaps Loretta was able to knock Fuller off his self-constructed pedestal with more precision and scholarly authority than she might have otherwise.
Before introducing our first speaker, I'd like to thank both Kevin Murphy for his unstinting support of this event and Andrea Appel, Art History's Assistant Program Officer, for her tremendous logistical help.  I should also acknowledge Claire Zimmerman, who suggested several years ago that we organize something to honor Rosemarie, and whose enthusiasm for this event refused to be dampened by my repeatedly suggesting that perhaps we ought to wait for Rosemarie to retire.  So here we are finally are Claire—I've managed the symposium; the festschrift is all yours.  One final note for the students in the room, I will post a fully cited version of these introductory remarks on my website at esperdy.net—thus insuring Rosemarie's influence on the NEXT generation of scholars.