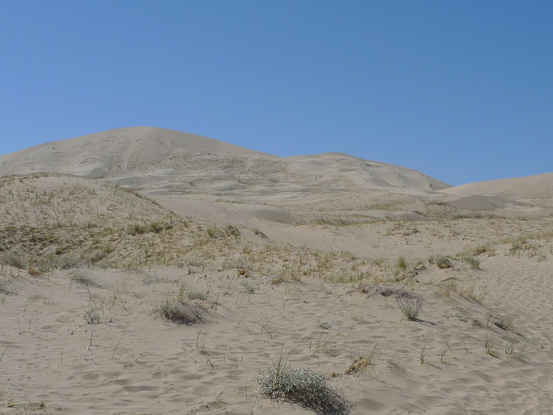 Last week, after many long hours exploring the desert , I spent the night in a tipi.  It would be easy to say the tipi was in the middle of nowhere because the closest town, Tecopa, is 230 miles from Los Angeles and has a population of 99.  But, in the middle of the Mojave, on the edge of Death Valley, at the bottom of a canyon riddled with abandoned gypsum mines, surrounded by a date farm, the tipi was definitely somewhere.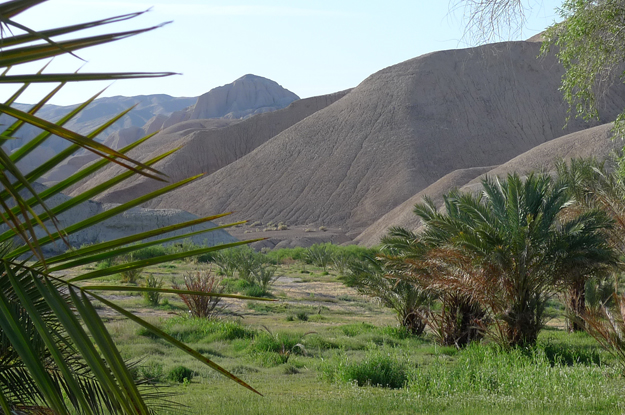 When we pulled into Tecopa to check in at the tipi office, my companion was skeptical.  Practically the only sign of life we had seen for miles, it was little more than a trailer surrounded by a few dusty, run-down buildings.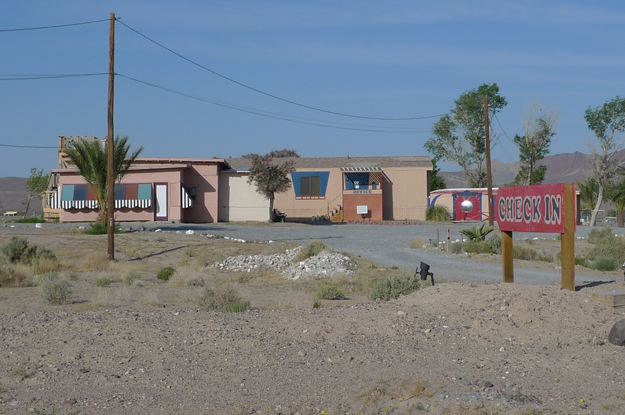 I'd have assumed the place was abandoned myself if I hadn't been instructed to stop there.  It didn't help that there were no visible tipis.  In the desert appearances can be deceiving: inside the office the clerk was so cheerful and enthusiastic as she greeted us by name and assured us that we'd make it to the hot springs before they closed, that she put our concerns to rest.
When she gave us directions to the tipi our concerns returned.  It was several miles away on unpaved, unnamed roads; it was almost dark; the directions were complicated.  Still, we set off  feeling the spirit of adventure.  How often does a New Yorker get to sleep in a tipi?  I once slept in a chicken coop in the Catskills, but a chicken coop in the Catskills is not a tipi in the Mojave.
Why is the prospect of sleeping in a tipi so appealing?  It must have something to do with its otherness as shelter in 21st century America. In cultural terms, the tipi is as far removed from the Cape Cod cottage that inspired the iconic American detached house as Mojave is from the Plains.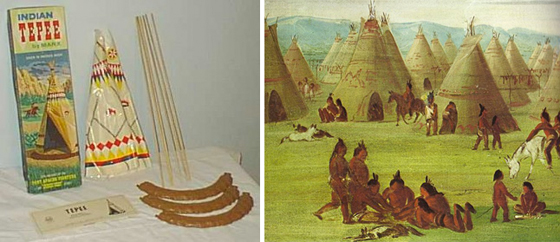 I was dimly aware of tipis growing up on the east coast, but my knowledge was limited to reruns of westerns on UHF.  And since I didn't play with Jane and Johnny West dolls, I missed the opportunity to erect a mini-tipi of my very own.  In college studying the paintings of George Catlin marginally expanded my understanding, but, truthfully, the tipi remained in the realm of native exoticism, a buckskin version of architecture's fabled primitive hut.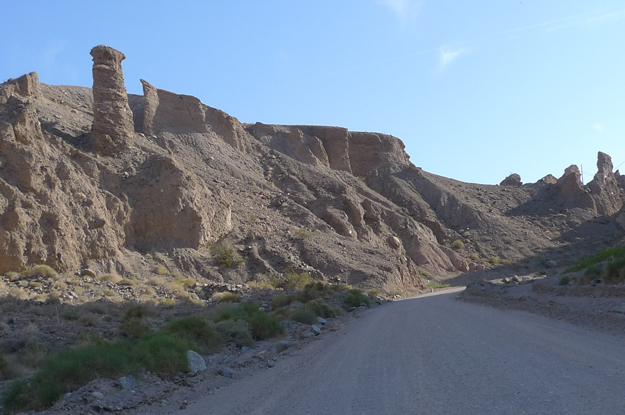 I wasn't thinking about any of this as we turned onto a dirt road that narrowed ominously as it dropped down into a steep canyon.  It felt like driving in a maze.  As our eyes adjusted to the dark, the moonlight revealed a landscape of craggy, pockmarked beauty that gradually gave way to a wide bottom filled with date palms.  Further ahead, the canyon's strange beauty gave way to plain strangeness: in a small clearing sat a ramshackle house and three large tipis.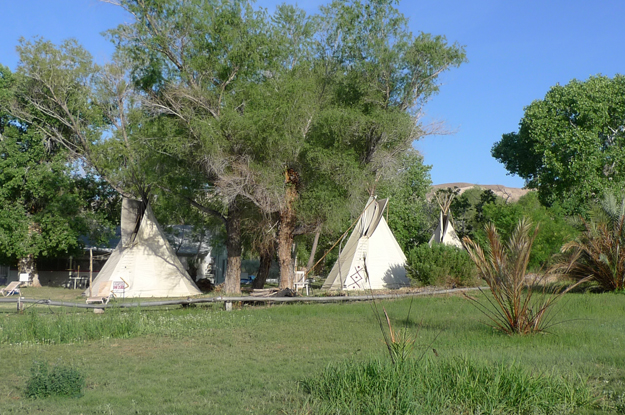 Though based on a traditional design, these tipis were hardly the demountable, portable structures of the Plains Indians.  They were more like mobile homes in a trailer park: theoretically, they could move but such an occurrence was highly unlikely.  Inside, it was Lawrence of Arabia meets Ralph Lauren.  This wasn't surprising since the proprietor of the place was an interior decorator from Las Vegas who dropped out to the desert a few years ago.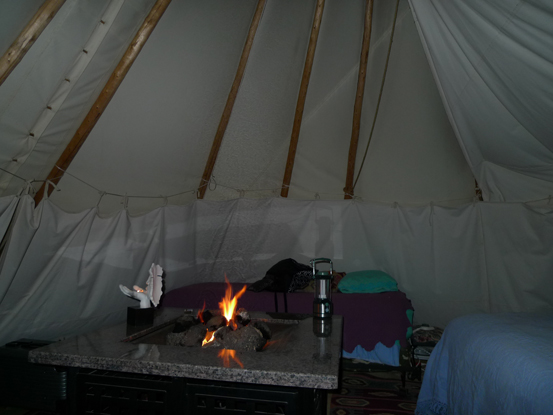 At the center of the tipi was a granite-topped, gas-powered fire pit: the hearth, that most elemental symbol of human gathering and community, deftly transformed into an object of middle bourgeois luxury.  Since I long ago gave up being offended by objects of middle bourgeois luxury, I was delighted with the fire pit.  It didn't even matter that the fire provided atmosphere rather than heat.  The beds inside the tipi had electric mattress pads.
Laying in bed that night I saw stars through the tipis' smoke hole and heard coyotes howling in the distance.  Laying in bed the following morning, I watched the sun make dappled patterns on the tipi's canvas cover.
I got up feeling so refreshed and satisfied with my night in a tipi that I tried to convince my companion to build one in her backyard.  Wouldn't a tipi in el barrio be almost as good as a tipi in the Mojave?  She thought not; upon further reflection I'm inclined to agree (the Manhattan rat lacks the allure of Mojave coyote), but I stand by my initial enthusiasm.
*****
A few days later, I tried to sleep in a tipi again; this time in Holbrook, Arizona.  More precisely, I tried to sleep in a building shaped like a tipi calling itself a wigwam.  It was part of a "village" built in the early 1940s, one of several wigwam motels that once lined the roadsides of Route 66 from Illinois to California.  I stayed here once before, more than a decade ago, and was excited to stay again because I liked the symmetry of sleeping in two tipis in one week, even if the second tipi was a building shaped like a tipi calling itself a wigwam.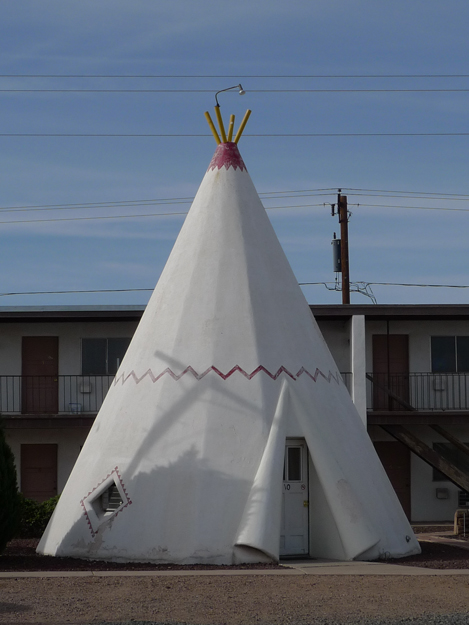 Sadly, when we rolled into Holbrook after 8 pm all the tipis were booked.   Apparently, we were not the only people seeking what J.B. Jackson called "the different and temporary identity" that the road bestows on the traveler.  I retired for the night to the Best Western next door.  It was far less romantic, but at least it had WiFi.