My friend Adriane Herman is an artist, curator, and associate professor of printmaking at the Maine College of Art.  Her work is all about consumption and found imagery: 409 bottles, Little Golden Books, vintage postcards, discarded shopping lists, post-it notes, surplus bird seed.  In Adriane's work detritus and ephemera become art, not simply through object trouvé appropriation but through old-fashioned craftsmanship and technique, both analogue and digital.
.
.
.
.
.
.
.
.
.
Her latest project is Plunder the Influence.  As Adriane describes it, the project "examines physical manifestations and sources of influence"—in other words, she asked her collaborators to think about their books and send her photos and written vignettes reflecting their relationship to books.  Over one hundred of us did.  The results are astonishingly varied and utterly satisfying, whether they are viewed online or on mugs and mousepads in the "Storytellers" exhibition installation at Kate Chaney Chappell Center for Book Arts, located in the Glickman Library on the Portland campus of the University of Southern Maine.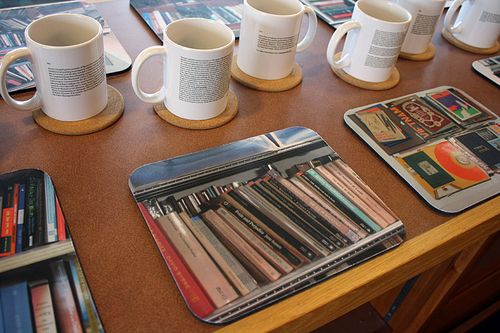 .
.
.
.
.
.
.
.
.
.
.
My own contribution is here.  Browse The Stacks for responses from all of Adriane's collaborators and see the Project Description for a full explanation.
On a related note, I'm reading Alexandra Horowitz's Inside of a Dog which includes this Groucho Marx quip as its epigraph: "Outside of a dog, a book is man's best friend.  Inside of a dog it's too dark to read."