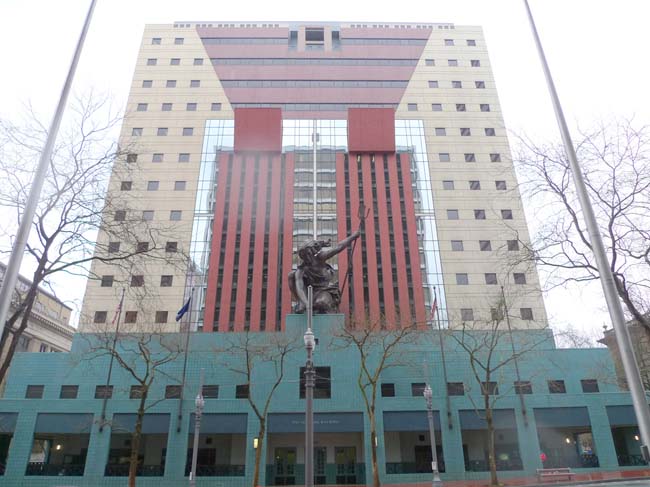 Standing in front of Michael Graves' Portland Public Service Building in a steady rain it was hard to imagine that this dingy postmodern box had caused so much fuss back in 1980.  Today, the controversy has faded as surely as the building's colored tile veneer. What remains startling 30 years later is not the cartoon classicism, but the monumental sculpture above the entrance on the building's west side at 1120 SW Fifth Avenue.
This 36-foot tall figure is Raymond Kaskey's Portlandia, an embodiment of commerce who first appeared on Portland's city seal in the 1870s.  As a heraldic emblem, she possesses a certain naïve charm: pioneer ambition mixed with local boosterism to produce a pseudo-mythic figure who conjured history and tradition for a city that was barely two decades old.  As a colossal statue, she is nearly grotesque: squatting on a dinky pedestal and lurching forward in an almost threatening manner, she is more urban panhandler than civic symbol.
Though Graves' histrionic backdrop was partially to blame, something else was influencing my intensely negative response to Kaskey's work: I couldn't help but compare it another monumental sculpture, one I had seen a few days earlier, one whose monumentality made Portlandia seem like a lawn ornament.
______________________________
A thousand miles before and a world away from downtown Portland, I drove to the top of Mormon Mesa outside of Overton, Nevada in search of Michael Heizer's Double Negative of 1969.  Though I had detailed directions, courtesy Nick Tarasen's website, I wasn't sure the Clubman was up to the journey.  Tarasen recommends a four-wheel drive vehicle with high clearance; I had neither, but figured that if the road got too bad I would simply turn back and if I damaged the car in the process, I'd have plenty of daylight to walk back to town.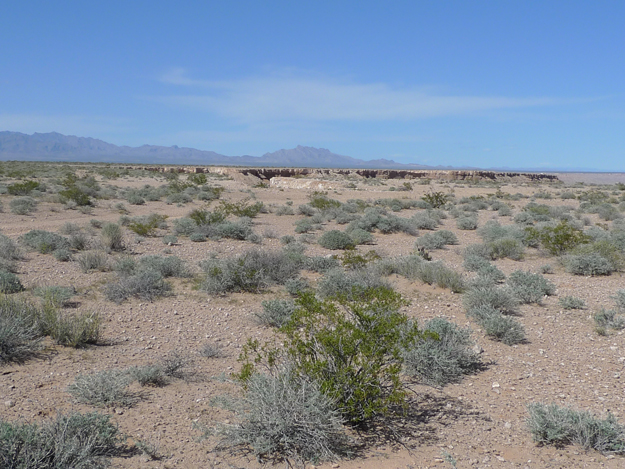 On the top of the mesa, the unpaved main road deteriorated into little more than a dusty gravel path; sometimes it was just bare rock.  The scrubby mesa top was criss-crossed in every direction by ATV desire lines that made it difficult to follow a specific route.  After a few miles I parked the car, as directed, and walked to the mesa's eastern edge hoping Double Negative would come into view.  It didn't.  I crouched down and peered over the side.  All I saw was the mesa's gently eroding face giving way to the Moapa Valley and the Virgin River below.
I continued walking north, stopping every few feet to take a good look at the east face, making sure that I wasn't missing something significant.  After 30 minutes of gamely searching, while I was enjoying the view, disappointment started to temper my enthusiasm.  Nonetheless, I walked on, following the mesa edge as it jogged decidedly west.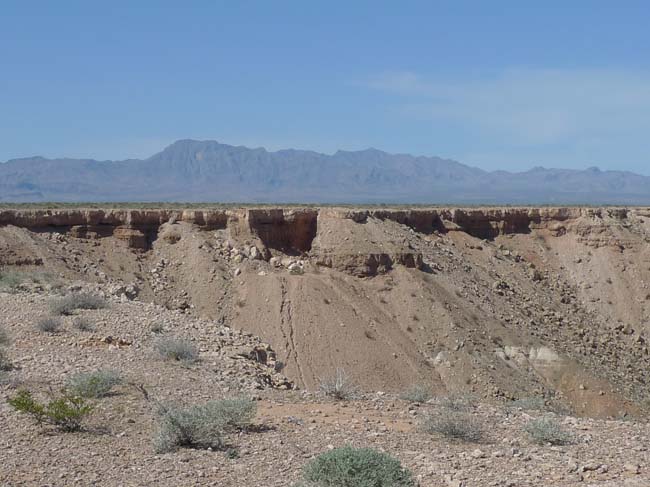 Something in the distance caught my eye.  It was almost imperceptible, but it was definitely there, an event in the east face that looked slightly out of place.  Well, it wasn't so much out of place as it was too perfectly in place.  It looked like a small notch in the irregular edge of the mesa.  There were dozens of similar grooves on the mesa face–but this one was somehow too deliberate, too intentional.  Still unsure, I walked on and just as I lost sight of my notch in the shadows a huge trench appeared before me on the mesa.  I had reached Double Negative.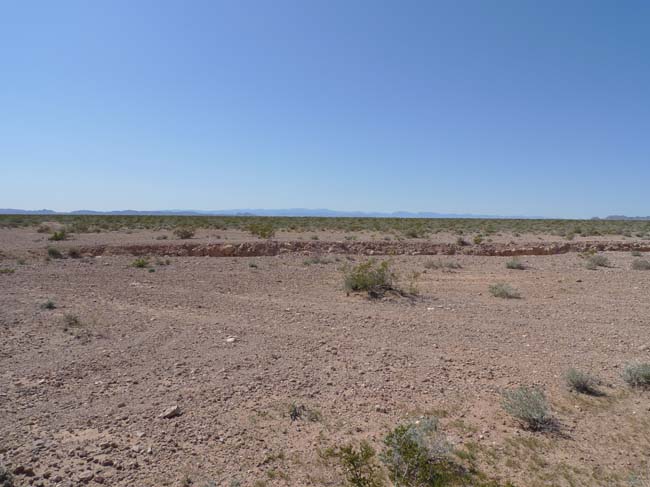 Though it appears as a spatial continuum, Double Negative is actually three parts: two cuts and the space between them.  The northern cut was the notch that first caught my eye; the southern cut was the trench at my feet.  Standing now at its southern end before hiking through it, I took in Double Negative's full 1500 foot length, 30 foot breadth, and 50 foot depth.  It is literally monumental, requiring Heizer and his crew to remove 240,000 tons of the mesa itself.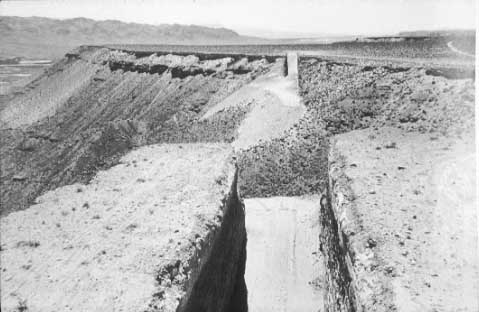 When they finished the job forty years ago, Double Negative looked different.  Its edges were sharp, its walls were planar, its floor was smooth.  I wondered if it seemed hubristic and arrogant back then, and maybe even violent.
These qualities still linger about the place, but not in a negative way.  Today, it is a much softer work. Its edges are eroding, its sides are crumbling, its floor is filled with rocks.  Mormon Mesa is slowly recovering from artistic intervention.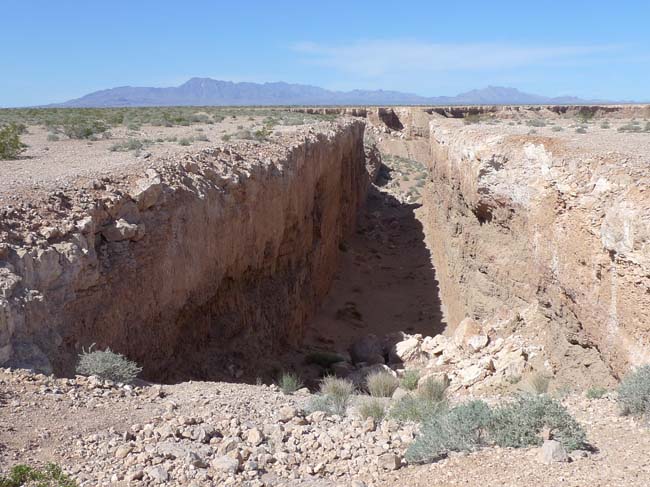 There is something very American about Heizer's bold gesture.  Like the remains of the Oregon Trail that I saw a few days later, Heizer's mark on the land resonates with Manifest Destiny and the great push "to overspread the continent."  Like the natural monuments that distinguished the Americas from Europe–the Grand Canyon, Yosemite, the Great Sand Dunes–Double Negative possesses an inherent, sublime grandeur.
In Double Negative's inevitable disintegration, the work provides a moving commentary on the inevitable decline of the American Empire. For me, this is what makes it so satisfying.  It is brimming with meaning, but it is empty and absent.  It offers nothing more than a place to contemplate the mesa and the sky.  If offers nothing less than a place to contemplate the history of human settlement.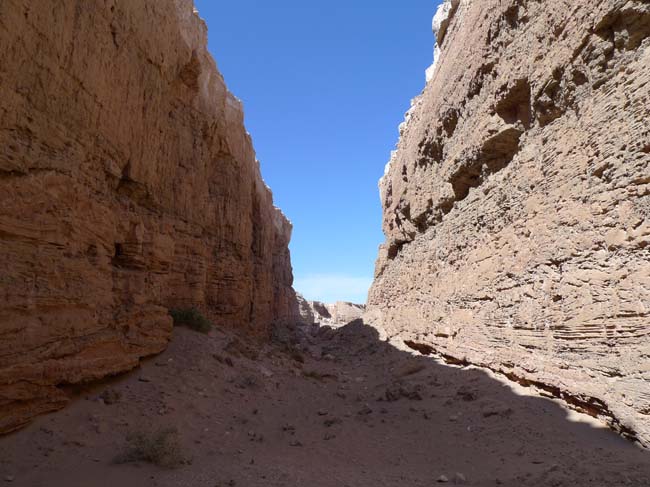 I hiked out of the trench and sat for awhile on the mesa's edge, happy with the solitude, the blazing sun, the dominance of nature.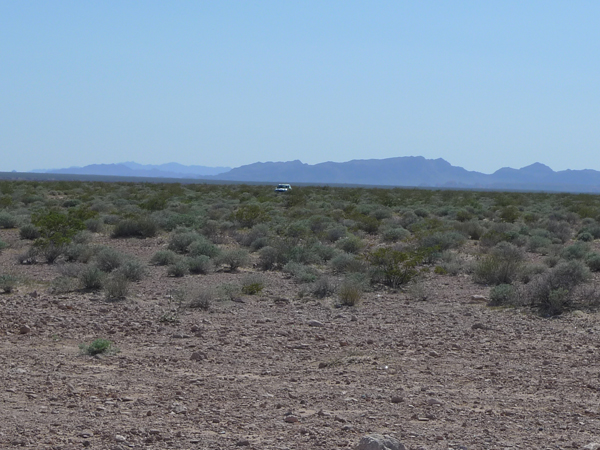 It was getting late and I was only 70 miles north of Las Vegas so I walked back to the car, which looked like a toy against the immensity of the mesa, and drove slowly back to civilization.