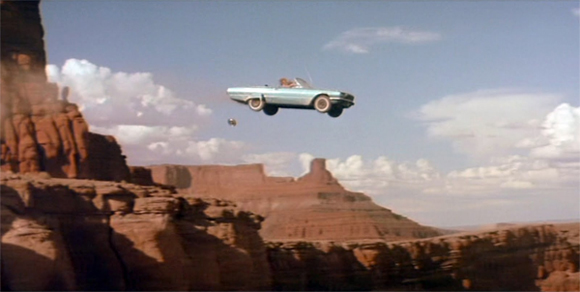 The Thelma and Louise Half-Marathon in Moab is staged in tribute to the 1991 film directed by Ridley Scott, written by Callie Khouri, and shot on location in Southern Utah.  The race takes place on the same scenic highway (UT-279) where the eponymous heroines meet their fate after an epic road trip in a 1966 Thunderbird convertible.  In the early 90s, the politics of the film, especially in relation to third wave feminism, were complicated, to say the least, but two decades later it's settled comfortably into iconic status: a gender-bending/genre-blending American classic that's part western, part road picture, part buddy movie.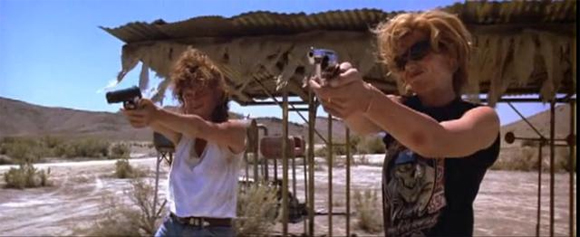 Which may explain the almost embarrassing euphoria that one still experiences during the film's chicks-with-guns climax.  There may be better movie explosions, but none, to my mind, as satisfying as watching the misogynist trucker get his due.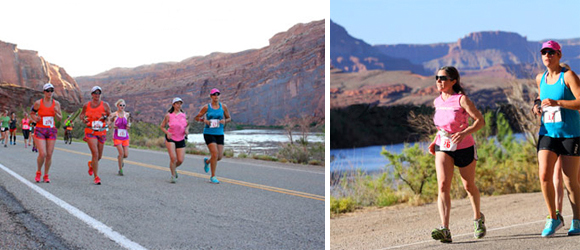 Running the Thelma and Louise Half, the euphoria is somewhat different (the only gun was the starter pistol), but the sisterly solidarity is just as intense because this is a women's only race.   If you've never competed in a road race, you might not understand the appeal of a women's race.  Aside from cleaner porta-potties, a supportive kind of vibe suffuses these events–to such a degree that striving for a personal best starts to seem like a communal goal.  Accelerating a few miles from the finish, hoping to come in under two hours, the women running around me whooped and hollered with you-go-girl camaraderie.  In the twenty years I've been participating in running races, this has only happened when my competitors are all women. And I still get a kick out of it, which is why I'll keep running in women's events, whether in canyon country or Central Park.
Back in real life, that kind of women's camaraderie is just as important, though it can seem harder to find in the male-dominated world of architecture and the academy that I occupy when I'm not on the road.  I found it at NJIT when I joined an architecture faculty that included feminist practitioners, thinkers, and historians like Leslie Kanes Weisman, Karen Franck, and Zeynep Celik.  I found it at  BWAF when I joined a board of trustees and advisors that included equally formidable feminists like Peggy Deamer and Mary McLeod.  I found it at Places when I accepted Nancy Levinson's challenge to contribute to public intellectual discourse about architecture and urbanism–and about women.  Places has become an important platform for exploring women's inclusion and exclusion in architecture, as historical phenomena AND as contemporary polemics, most recently in Despina Stratigakos' Unforgetting Women Architects: From the Pritzker to Wikipedia, which reminds us of the dangers of cultural erasure and challenges our own complicity in the widespread amnesia about women in design.   In the spirit of Thelma and Louise, let's accept this as a feminist call to arms. But forget chicks with guns; this is about chicks with bricks.