On reason I journeyed to Bentonville was to visit an old friend who used to live in New York but who came to this small town in northwestern Arkansas a few years back.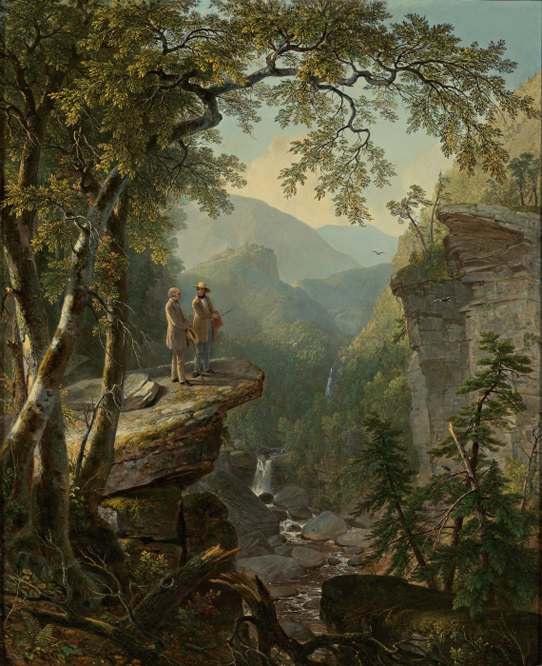 Since college, I've had great affection for Asher Durand's Kindred Spirits (1849).  An important painting of the Hudson River School and a central document of 19th century American culture, it depicts the artist Thomas Cole and the poet and journalist William Cullen Bryant standing in the vast wilderness of the Catskills.  For many years the painting hung without fanfare in a corner of the Edna Barnes Solomon Room of the New York Public Library.  I visited it frequently when I was in graduate school since it was close to my regular study spot in the main reading room.
When the NYPL revealed that it had quietly sold the painting in 2005 people were upset.  When the NYPL revealed that it had quietly sold the painting to Wal-Mart heiress Alice Walton for Crystal Bridges, her new museum of American Art in Bentonville, Arkansas, people were apoplectic.  Henry James would have appreciated the spectacle, and the irony, of the east coast establishment expressing outrage that their cultural patrimony was being plundered by a nouveau riche upstart from somewhere west of the Hudson (in fact, Walton had been a serious collector for a number of years).  What goes around comes around.
Moshe Safdie is designing the new museum, which is supposed to open in 2010.  The published drawings show a series of light-filled structures set in a wooded landscape with prominent water features.  One of the renderings depicts Kindred Spirits installed in a white box gallery.  When the painting hung in the NYPL, the majesty of the landscape and the sumptuousness of Carrère and Hastings Beaux-Arts interior balanced each other nicely.  It remains to be seen if Safdie's white box will enhance or diminish the power of the painting.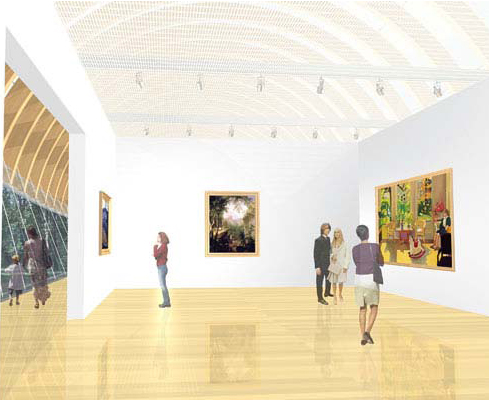 The day I visited Bentonville the museum's temporary digs were closed, so my attempts to see Kindred Spirits again were thwarted.  I subsequently discovered that the painting isn't even in Bentonville right now.  It's on temporary loan to the Metropolitan Museum of Art.  I drove 1200 miles to see a painting that is hanging a 20 minute walk from my apartment.  Go figure.
I had another reason for visiting Bentonville.  I wanted to see where it all began.  I wanted to stand before the humble origins of the largest private employer on the planet.  I wanted to gaze upon the umbilicus mondi of the company whose annual sales are greater than the GDP of three quarters of the world's economies.  I wanted to visit Sam Walton's original 5 & 10 on Main Street.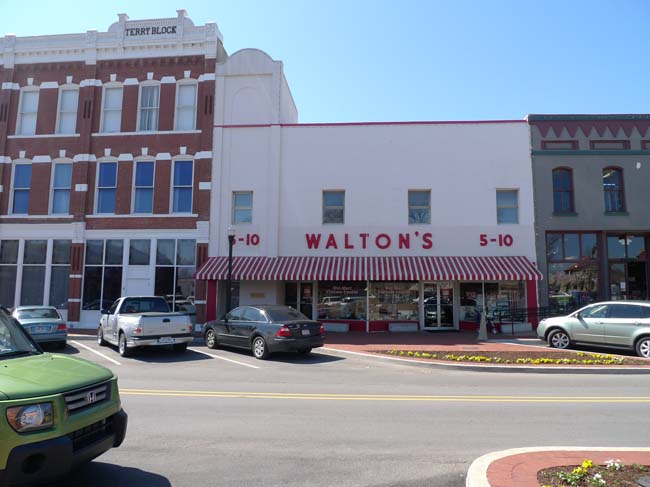 This store opened in 1950 with a double frontage, a central location, and nothing whatsoever to indicate that it would spawn a retail giant with the power to control the manufacturing and distribution of consumer goods across the globe.
[The first Wal-Mart, built in nearby Rogers in 1962, no longer exists.  It was on a highway outside of town and contained 16,000 square feet of retail space–about five times as much as the Bentonville Walton's, but diminutive when compared to the company's contemporary big box behemoths, containing an excess of 100,000 square feet.]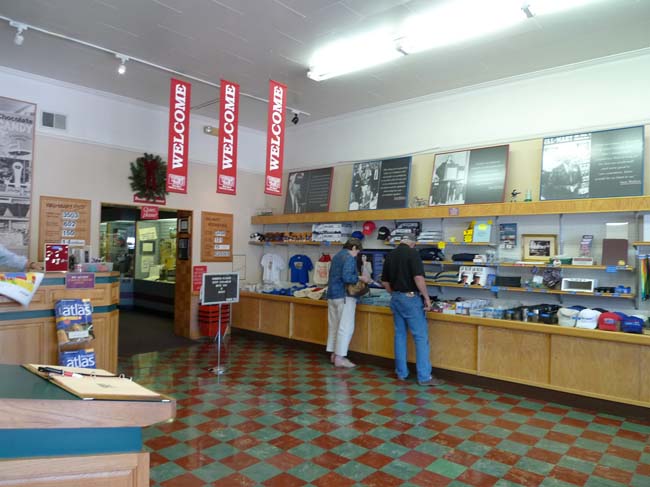 Today, the original Walton's houses the Wal-Mart Visitor's Center.  Wal-Mart caps, t-shirts, license plate holders, and Walton's autobiography are for sale (cash only!) in a front room that retains its original red and green checkered linoleum floor.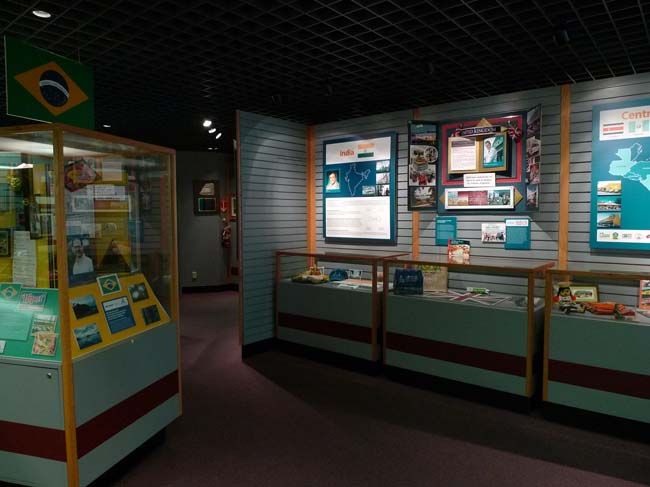 Back rooms chart the history of the company, combining facts and figures with corporate ephemera and inspirational quotes by the founder himself.  While a few charts document Wal-Mart's growth in the U.S., an entire room is devoted to its global expansion.  Here, world domination has an awfully friendly face.  (But not a smiley face.  A year ago, the company lost its efforts to claim the familiar yellow smiley face as a Wal-Mart trademark.)
That friendly expansion is tracked on old fashioned tote boards up front.  On the day I visited there were 3503 Wal-Marts, 602 Sam's Clubs, and 150 Neighborhood Markets in the U.S.  Internationally, there were 3498 Wal-Marts and 131 Sam's Clubs.  This was over a week ago; there are probably more by now.
Also on display are a few of Walton's personal possessions: his Ford pick-up truck, a bronze head of his prized English Setter, and his office as it looked on the day he died in 1992, complete with cheap wood paneling, drop ceiling and 70s furniture.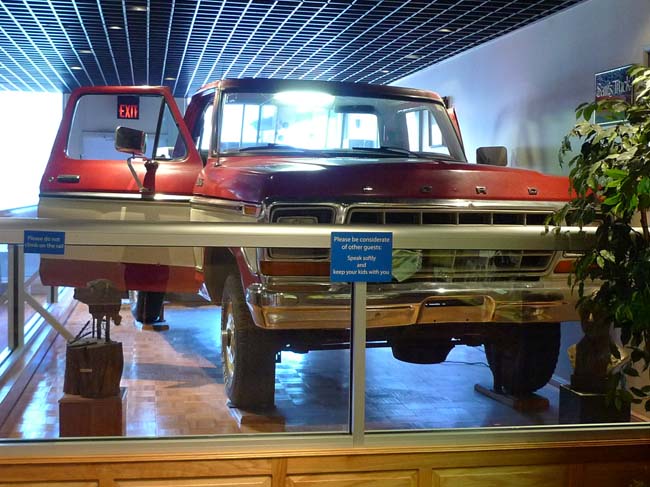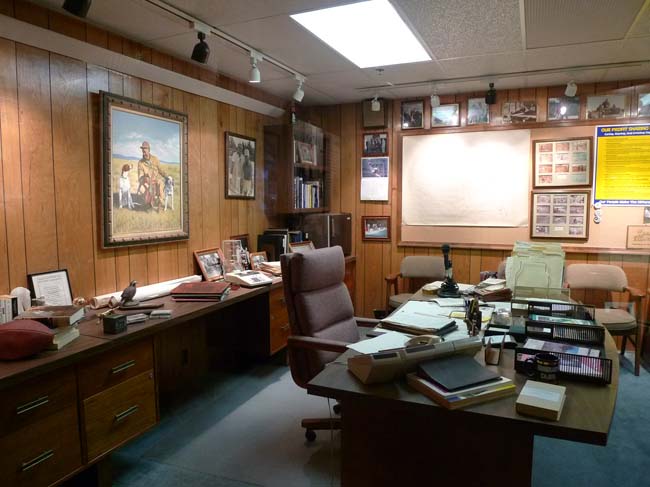 I admit to not really feeling the aura of the GREAT MAN as I studied these items.  For the record, this isn't because I am immune to feeling auras: the reconstruction of Thomas Jefferson's library at the Library of Congress (Day 1) bristled with the founding father's enlightenment intellect and Donald Judd's live/work spaces in Marfa (Day 9) thrummed with the minimalist's artful OCD.
The only vibe I got from gazing at the Walton artifacts felt like corporate P.R. trying to convince me that to his last days "Mr. Sam" was was a down home small town merchant.  This may be true, but he was a small town merchant whose most lasting legacy was a profound contribution to the decline of the American small town.
Except in Bentonville.  Though it is surrounded by Wal-Mart sprawl in every direction–Associate Stores, Supercenters, Layout Centers, Distribution Centers, and Lifestyle Centers–Bentonville's actual center exuded prosperous vitality when I was there.  Main Street and the town square are in immaculate condition and the whole district is a Wi-Fi hot spot.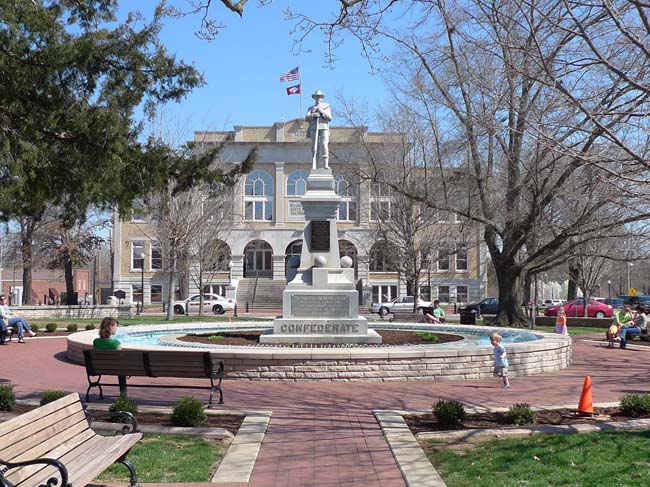 I bought an iced latte at a café on the square (not a Starbucks) and sat down in the warm Arkansas sun across the street from the original Walton's.  I thought of the countless Wal-Marts I'd passed on my journey from New York to Bentonville and of all the depressed small towns I'd driven through.  And as I sat there looking at the Walton's, Victor Hugo suddenly came to mind: "ceci tuera cela."  This will kill that.